Gas Decarbonisation Pathways 2020-2050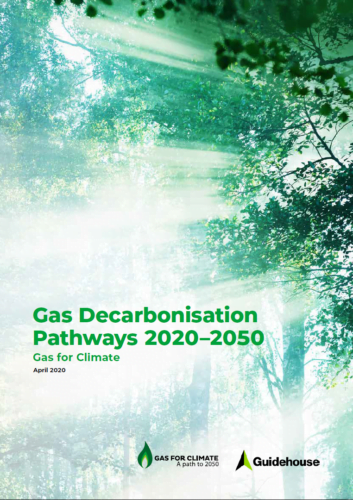 Download the document
This report analyses decarbonisation pathways from 2020 to 2050. The pathways target the Optimised Gas 2050 energy system as described in our earlier study, Gas for Climate. The optimal role for gas in a net-zero emissions energy system, published in 2019. During the past year, we have had many discussions with EU stakeholders on the 2019 Gas for Climate study, giving rise to one central question: How do we transition from today's energy system to the 2050 net-zero emissions system? This new study answers this question by analysing and mapping out decarbonisation pathways for different sectors and implications for gas infrastructure.
The central decarbonisation pathway of our new study is called the Accelerated Decarbonisation Pathway. It shows how a step-wise approach, seizing investment opportunities in the coming decade, can put Europe on course towards a faster and more cost-effective decarbonisation of its energy system compared to current EU trends. This does require the European Green Deal to accelerate investments by improving business cases and providing a stable framework.
In this time of unprecedented public health challenges and economic pressure, climate change mitigation and economic recovery must go hand in hand. In the aftermath of the current health crisis, the required EU and national stimulus packages should also be seen as a three-fold opportunity for Europe. Beyond creating economic growth, stimulus packages can drive forward the energy transition and create sustainable jobs.
Building up European hydrogen and biomethane value chains as described in these pathways has major economic and industrial benefits and creates large numbers of new sustainable jobs in globally relevant sectors. Our new study offers a pathway towards cost-effective and resilient energy system integration. We support the transition to a fully renewable energy system in which biomethane and green hydrogen play a major role in a smart combination with renewable electricity and Europe's well-developed existing infrastructure. We also recognise that blue hydrogen can accelerate decarbonisation efforts and highlight the ability of biomethane combined with CCS to create negative emissions.